Adult Programs
March's Adult Programs
---
Vaya Health Presents
Hoarding Disorder: Hidden Secrets
March 3rd, 11 AM at The Marion Library
Have you ever had a secret you were too embarrassed to share? Those who hoard may not disclose symptoms due to potential embarrassment, judgment, and ridicule. This presentation will explore causes, symptoms, treatment, and care methods for those managing this condition.
---
Seed Library Grand Opening!
March 4th, 11 AM- 1 PM at The Marion Library
It's finally here! What you've been waiting for! The seed library is officially opening!  We will be giving away ready to plant winter sowing containers that we will help you plant. Free seeds, gardening books, and magazines!! Coffee from a local coffee truck. Free drawing for a basket of gardening related items! Garden themed Face Paintings for the kids! Ask A Master Gardener Desk available to answer your gardening questions and more!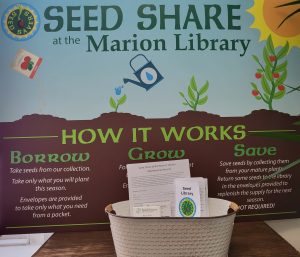 ---
Book Club
March 10th, 1-2 PM at Ingenious Coffee Roasters
Stop by the next book club meeting where there will be delicious coffee, fun people, and interesting conversations! We will be discussing our latest read Keeper of Lost Things by Ruth Hogan and you can pick up a copy of our next book The Maid by Nita Prose.
---
Once Upon a Craft
March 14th, 3-5 PM at The Marion Library
At this month's Once Upon a Craft we will be making cute little hedgehogs from recycled books. They measure about 7 inches long and you can add bows, flowers or even a hat! Makes a great gift or a nice spring time decoration.
---
Trunk of Troubles
Presented by Heather South, Lead Archivist with the Western Regional Archives, a branch of the State Archives of North Carolina
March 16th, 5 PM at The Marion Library
Conditions that very old items are often kept in may not be the best. How does one care for these older items? How do you store them so they will last for further generations?  Lead Archivist Heather South will share basic care, handling, and storage instructions for taking care of your family documents. "The Trunk of Trouble" uses examples and samples all about the do's and don'ts of preservation for books, paper, and photographs. It's informative and fun so come join in on the preservation conversation!
---
Free Tax Clinic
March 21st, 2-5 PM at The Marion Library
MATCH will be providing free tax preparation assistance; all staff are tax law certified by the IRS and can assist with tax preparation and e-filing of state and federal returns to families making less than $70,000 per year. Be sure to bring photo IDs, if filing jointly both parties must be present, and all necessary tax forms. Walk-ins are welcome, but appointments are encouraged.
---